There's a lot of hype about 65-inch TVS. And sure they can fill an entire wall with brilliant 4K HDR images, but for those of us with smaller rooms - or smaller budgets - a 55-inch TV is a much better option, and if you get a good one it still serves up a fantastic viewing experience.
Having said that, it's best to think of 55-inches as the sweet spot for TVs. What we mean by that is, they might not always be packing the best picture technology, especially in comparison to bigger rivals. But most of the time they cost much, much less than their 65-inch counterparts and still look and perform better than a 40-inch TV.
Because the TV space has come on in leaps and bounds recently, there's no need to worry about the basics when it comes to a 55-inch TV. The majority of them support 4K resolution, HDR and also have built-in smart TV services. It'd be rare for you to find one without one of these features, let alone all three.
That means the decision you'll need to make is which model to go for and how much to spend. You also need to consider whether you'd prefer the cinema-beating black levels and contrast of an OLED or the superior brightness of LCD, which also makes HDR movies and games look better.
It's a tough one. But have a look at our selection of 55-inch TVs of the moment. All of the following models have been tried and tested by our expert reviewers and you can read our full reviews for more on the pros and cons of each, just click through.
1. The best 55-inch TV: LG OLED55C8
Stunning pictures at an affordable price puts OLED back on top
Screen size: 55-inch | Tuner: Freeview HD | Resolution: 3840 x 2160 | Panel technology: OLED | Smart TV: webOS | Curved: No | Dimensions: 1,225 x 714 x 48.9 mm
Stunning contrast-rich pictures
Gorgeous ultra-thin design
Excellent operating system
Lacks brightness vs LCD
There is a clear winner in the 55-inch 4K TV game, and it's the LG C8 OLED – available in a 55-inch version as well as a 65-inch. This year's TV offers a boost on the hardware side compared to last year's C7 with the new Alpha9 Processor. This allows for the TV to handle High Frame Rate content and offers a significantly larger Look Up Table (LUT) to help the TV more accurately re-create images.
While there are other OLEDs worth considering in 2018 (see: Sony's A1E OLED or LG's B8 and E8), this is the best 55-inch TV for the price.
Read the full review: LG OLED55C8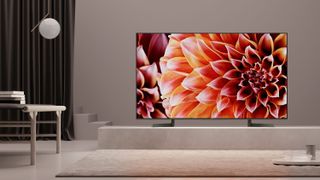 2. Best mid-range TV: Sony XBR-55X900F
Sleek, capable and almost what we'd consider affordable
Screen size: 55-inches | Tuner: Freeview HD | Resolution: 3840 x 2160 | Panel technology: Direct-lit LCD with local dimming | Smart TV: Android TV | Curved: No | Dimensions: 1228 x 706 x 69mm
Excellent motion handling
Great contrast
Android TV can be slow or fiddly
This was the first 2018-series high-end TV we reviewed. We were immeditely impressed.
The Sony XBR-55X900F is an LCD TV but in most conditions you get OLED-like black performance thanks to excellent local dimming with minimal halo'ing.
This year Sony has improved brightness and motion handling. It makes the most of HDR and retains more detail when there's motion on-screen.
The Sony XBR-55X900F is also significantly less expensive than most OLED TVs. You get top-end performance on a more sensible budget. Like the 2017's Sony BRAVIA XBR-65X900E the set uses Android TV, which is flexible but can feel slow at times. However, the balance of cost and image quality is spot-on.
In the UK this TV is knows as the Sony KD55XF9005.
Read the full review of the 65-inch version: Sony XBR-65X900F
3. The best budget 55-inch TV: TCL 6-Series Roku TV
Can't spend more than $1,000? The TCL 6-Series is the best budget TV
Screen size: 55-inch | Tuner: N/A | Resolution: 3840 x 2160 | Panel technology: LED | Smart TV: Roku TV | Curved: No | Dimensions: 1,239 x 717 x 36 mm
Bright, colorful HDR
Roku TV is amazing
Upscaling isn't world-class
Poor black level performance
If you had deep pockets and checkbook filled with blank checks, we'd tell you to reach deep and shell out for only the best TVs on the market - LG's crazy-thin OLED W8 or Samsung's ultra-bright Q9FN QLED. But that's not realistic. For the vast, vast majority of us, our budget to spend on a TV is limited to somewhere under $1,000 - and often less than that.
To that end, it's absolutely fair to say that the TCL 6-Series is the best TV you can possibly get in this price range. Its performance per dollar is unmatched and its picture quality - despite a few minor flaws - will truly impress you.
Read the full review: TCL 6-Series (R615, R617)
4. Blow the budget: B&O BeoVision Eclipse
A money-no-object pick for those after a statement TV
Screen size: 55-inch | Tuner: N/A | Resolution: 3840 x 2160 | Panel technology: OLED | Smart TV: WebOS | Curved: No | Dimensions: 1,390 x 1,235 x 518 mm
OLED image quality
Stunning design
Motorised stand
Very expensive
Buy a B&O TV and you don't just get high-end image quality. The B&O BeoVision Eclipse is also a design statement.
It has an integrated 450W, six driver soundbar and a motorised stand that lets you tilt the screen to suit your viewing position. It's a stunning floor-standing TV, not one you wall-mount and forget.
The display itself is an OLED made by LG. You get the similar image quality and the same software, WebOS, as one of LG's own sets. That means perfect black and excellent colour, if not quite as strong motion handling as the very latest high-end Sony LCD TVs.
If you're not bothered about the B&O magic sprinkled on the Eclipse, you'll see similar image quality if one of LG's latest OLEDs. However, this is one TV you can't just boil down to its image versus the price. It offers a different experience, and a different look, to any other TV out there.
The price? $9,995 (£7,495, AU$13,990).
Read the full review: B&O BeoVision Eclipse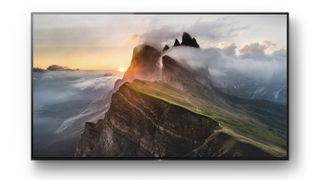 5. The best premium 55-inch TV: Sony A1E OLED
Sony's brand-new flagship TV for 2017 is returning to OLED
Screen size: 55-inch | Tuner: Freeview HD | Resolution: 3840 x 2160 | Panel technology: OLED | Smart TV: Android TV | Curved: No | Dimensions: 773 x 1239 x 266mm
Gorgeous picture quality
Innovative and excellent sound
It's not very bright
Android TV is clunky
It might seem ludicrously expensive, but Sony's 55A1E – and the A1E OLED series in general – are phenomenal devices in just every way imaginable. Their 'picture only' design has been gorgeously brought to life, somehow managing to be simultaneously subtle and dramatic. This set even delivers on sound performance through their unique screen vibration technology.
Where the A1E really shines, though, is its ability to deliver pictures that are beautifully colorful, rich in contrast and exquisitely detailed. These prove once and for all what we've long suspected: More manufacturers incorporating OLED technology can only be a good thing.
Read the full review: Sony Bravia OLED A1E
6. For bright HDR pictures: Samsung 55Q9FAM
1,500 nits peak brightness really brings out the best in HDR
Screen size: 55-inch | Tuner: Freeview HD | Resolution: 3840 x 2160 | Panel technology: QLED | Smart TV: Tizen | Curved: No | Dimensions: 687mm x 1121mm x 211mm
Fantastic color levels
Very bright screen
HDR color banding can occur
Backlight clouding can be an issue
Samsung was the first brand to introduce an HDR-compatible screen way back in 2015, but it's not been resting on its haunches ever since.
It's latest flagship, the QN55Q9F (QE55Q9FAM in the UK), is a perfect example of this. It ups the brightness to 1500 nits, 50% higher than the level required for UHD Premium certification, making it one of the brightest TV we've ever tested.
Outside of an impressive-sounding number this brightness has a real impact on the set's image quality. Detail is preserved in even the brightest areas of the image, and colors are exceptionally vivid and bright. That means even non-HDR content looks fantastic thanks to Samsung's SDR upscaling technology.
No TV is perfect, and the Q9F can occasionally suffer from some backlight clouding around bright objects and some settings cause color striping in HDR colors, but in all other respects this is the best television around at the moment.
Read the full review: Samsung Q9F QLED TV
7. The best entry-level OLED: LG OLED55B7
LG's entry level OLEDs continue to impress
Screen size: 55-inch | Tuner: Freeview Play, Freeview Satellite | Resolution: 3840 x 2160 | Panel technology: OLED | Smart TV: webOS 3.5 | Curved: No | Dimensions: 702 x 1124 x 247mm
Excellent all-round image quality
Complete HDR support
No Dolby Atmos passthrough
Mediocre onboard audio
LG's 'B' line of OLEDs has consistently offered a great entry point into the display technology without compromising on what makes it so exciting.
And the B7 series is no different.
Contained within the TVs is exactly the same panel that's powering the more expensive C7, E7 and yes even the W7 LG televisions, which means an exceptional bump over last year's OLED panels at a much lower price.
So where has LG saved the money? In a word, sound. The B7's downward firing speakers are the worst all the company's OLED TVs. Not only that, but the set is also currently unable to pass Dolby Atmos to an external sound system over HDMI (although a firmware update to fix this is on the way).
If however, you're content to put up with a standard surround sound experience, then the B7 is a fantastic entryway into a piece of TV tech that still feels futuristic in 2017.
Read the full review: LG OLED55C7
8. For a full cinema experience: Philips OLED 901F
Philips' OLED shines brighter than most other 55-inch TVs
Screen size: 55-inch | Tuner: Freeview HD | Resolution: 3840 x 2160 | Panel technology: OLED | Smart TV: Android TV | Curved: No | Dimensions: 1115 x 707 x 316 mm
Stunning picture quality
Spectacular, premium design
No Dolby Vision or 3D
Lacks brightness versus LCD
AV enthusiasts living in the UK have it good. Not only do you have access to great OLEDs from Sony and LG, but Philips and Panasonic each have their own line of infinite contrast screens that are exclusive to your neck of the woods.
Of them, one of our favourites is the Philips 55POS901F: a gorgeous looking 55-inch TV built around an OLED panel. The screen makes a stunning first impression thanks to the radiance of its three-sided Ambilight system and the gleaming metallic purity of its bodywork.
It's much more than just a pretty face, though.
By the time you've added to the 55POS901F's heady 4K HDR picture mix OLED's ability to be watched from wider angles than current LCD TVs without losing colour and contrast, you have on your hands one of the best TVs on the market, even in the especially competitive 55-inch screen space.
Read the full review: Philips 55POS901F