Turing is Nvidia's latest and most anticipated GPU architecture. Coming two years and almost three months after Pascal was first introduced, this has been the longest time Nvidia has taken to announce a new architecture for next generation graphics cards.
However, that wait may have been well worth it as Turing introduces new technology to introduce real-time ray tracing and artificial intelligence into consumer and commercial graphics cards. It's a true paradigm shift as Nvidia has even introduced its very first RTX graphics cards – though there are only going to be Quadro RTX cards at first.
Cut to the chase
What is it? Nvidia's latest graphics card architecture
When is it out? Q4 2018
What will it cost? $2,300 (£1,800, AU$3,160) - $10,000 (£7,830, AU$13,751)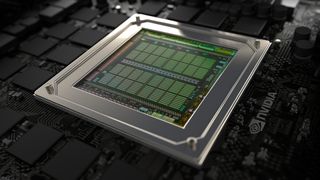 Nvidia Turing release date
At the time of this writing, there seem to be two distinct Nvidia Turing release windows. The first is all but confirmed by Nvidia itself as the company has listed the Quadro RTX 8000, Quadro RTX 6000 and Quadro RTX 5000 are all due to arrive in the fourth quarter of 2018 – which in Nvidia's case means any time from October 29, 2018 to January 28, 2019.
Now the second one is for Nvidia's still unconfirmed GeForce graphics cards, rumored to the GTX 1180 or RTX 2080. We've seen plenty of rumors pointing to an August release date, which is possible given that Nvidia is holding a GeForce Gaming Celebration at Gamescom 2018 later this month. However, we don't think Nvidia will release them on the same day.
What's more likely is a September release date. We've seen reports from people connected to aftermarket manufacturers that Nvidia Turing-based GeForce cards will be coming out September, with three cards making it to market.
We've also seen reports of Turing-powered laptop GPUs launching by the end of 2018. Whether or not this points to when the desktop graphics cards will be getting their launch remains to be seen.
Nvidia Turing price
Thus far, Nvidia has shown that Turing's incredible real-time ray tracing technology will come at a steep premium, at least going by the prices of these three following Quadro RTX cards.
Nvidia Quadro RTX 8000: $10,000 (£7,830, AU$13,751)
Nvidia Quadro RTX 6000: $6,300 (£4,935, AU$8,660)
Nvidia Quadro RTX 5000: $2,300 (£1,800, AU$3,160)
Of course, this are graphics cards meant for commercial work in the visual effects industry
Given the state of GPU prices, even in a mostly post-bitcoin world, we can't help but to predict higher prices for Nvidia Turing cards when they come out – especially since Nvidia has a surplus of Pascal cards lying around. Right now we're expecting Turing GPUs to launch at about, if not at least, $100 more than their Pascal counterparts.
If you need a reminder of the pricing of the Pascal Founders Cards that are currently available, here you go:
Nvidia Turing specs
Nvidia Turing headlining feature is the inclusion of RT Cores that power real-time ray tracing. These specialized cores essentially compute how light and sound travel in a 3D environment at a rate of up to 10 GigaRays.These specialized cores will also supposedly allow Nvidia Turing GPU to process real-time ray tracing 25-times faster than the previous Pascal architecture.
The technology firm also noted that its Turing-based GPU nodes can outperform CPU nodes by 30 times when used for final-frame rendering for film effects.
In addition to RT Cores, the Turing architecture also carries over Tensor Cores from Volta. Tensor Cores will enable artificial intelligence and neural networking for one of the first times on a graphics card-sized package rather than one of Nvidia's super computers.
Image 1 of 2
Image 2 of 2
With the ability to deliver up to 500 trillion tensor operations a second, this technology accelerates deep learning training and inferencing. Nvidia plans to introduce new AI-driven rendering methods such as deep learning anti-aliasing, which promises a high-quality image rendering complete with de-noising, resolution scaling and video re-timing.
As with Volta, Nvidia Turing has adopted GDDR6 memory that clocks in as fast as 14Gbps, quite the leap over the Nvidia Titan Xp that that clocks in at 11.4Gbps.
Altogether, the Nvidia Turing features 18.6 billion transistors compared to Pascal's 11.8 billion transistors.
Thus far we only have partial specs on three Nvidia Quadro RTX cards:
What remains a mystery is whether Nvidia's 12nm manufacturing process for Volta will trickle down to the company's Turing lineup. Beyond that, though, there really isn't much concrete information surrounding Nvidia's next line of GeForce graphics cards.
That's not to say we can't speculate, however. We've seen speculation that Nvidia is planning on releasing a 180W, 150W and 120W graphics cards in September, which would potentially mean we're going to see the 1180, 1170 and 1160 release in a short time frame. The Founders editions of these cards, according to the latest rumors, could be packing dual-fan cooler designs, allowing for breakthrough performance.
This comes on top of leaks we've seen on the TechPowerUP GPU database, with a ton of information about the anticipated GPUs. This is all hearsay, mind you, but we've seen some evidence that the GTX 1180 will run with 3,584 CUDA cores, 224 TMUs and double the VRAM of the GTX 1080. This is further backed up by a leaked image of a Turning PCB, which suggests there will be room for up to 16GB of GDDR6 memory. This leaked PCB leads us to believe that the GTX 1180 will suck more power than the 1080, though.
That's not all, either. We've also seen some speculation pop up on Wccftech about a possible GTX 1170 with massively better specs than the GTX 1070, including 2,688 CUDA cores, 168 TMUs and a whopping 9.75 TFLOPS.